4 Groomsmen Suit Color Trends for 2022
Groomsman Gear - February 16, 2022
When it comes to bridal party fashion, all eyes tend to be on the bride and her bridesmaids. However, these days the guys are coming more into the spotlight. And they should! With a wide variety of styles and attractive apparel options available for men, groomsmen blending into the background is a thing of the past. Let's take a look at the top groomsmen suit color trends to watch for in 2022.
1. Navy Groomsmen Suits
Next to classic black, navy blue groomsmen suits are always a top choice. It is easy to see why! Navy works well in a wide variety of color palettes, and it's a groomsmen suit color you can find in just about any men's suit store.
Navy blue wedding suits are an excellent pick for groomsmen in a more formal/elegant wedding. While this color adds a bit of dapper and traditional groomsmen style, it simultaneously has a more youthful and less-stiff look.
What's especially great about navy groomsmen suits is that they can be a base for grooms who want to add some bold flare. A navy suit will pair well with neckties and bowties in a wide range of colors and designs, making it easy to ensure the groomsmen and bridesmaid outfits complement each other. These fun accessories can also double as a perfect groomsmen gift on your wedding day.
2. Grey Groomsmen Suits
Gray is an excellent choice for a groomsmen suit color because a number of different shades exist to pick from. The perfect shade of gray for groomsmen suits will depend on the season you're getting married and how formal a look you're going for.
The fancier the wedding day, the darker your gray suit should be. Charcoal gray suits work well for a more formal wedding. They're often grouped in the same formality family as black.
Having a more casual wedding? Medium to light gray groomsmen suits are a favorite pick for summer and spring weddings - especially those with an outdoor element.
Gray suits are a dream because you can easily pair them with a variety of accessories. You could wear ties that match the bridesmaid dresses or add bold colored groomsmen socks for a fun addition to the outfit. The possibilities are endless with gray!
3. Bright and Patterned Groomsmen Suits
2022 will see many pops of color at weddings, from florals and brilliant aesthetics to — you guessed it — groomsmen suits. From lush greens and shades of purple to micro prints and flowers, colorful hues will be popular this year.
Dressing the guys in a vibrant or patterned groomsmen suit color doesn't have to mean dressing them in it from head to toe. Mix and match for a pop of color. For example, your groomsmen can wear a brightly colored suit jacket with black or darker pants. Or, mix and match neutral tones with bold ones.
Thinking about going the colorful route? Consider adding a classic and subtle accessory to bring the look together like our personalized tie clips. They even come with a custom kraft gift box - perfect for gifting to your groomsmen.
For patterned suits, especially those with a few colors woven in, solid-colored neckties, bowties, and socks are the way to go. That way, it won't be a colorful pattern overload!
4. Tan Groomsmen Suits
If you're planning a summer wedding, the tan groomsmen suits should definitely be a color to consider. Destination, beach, casual, and daytime weddings are ideal settings to dress your guys in this neutral tone. In fact, in 2022, neutral-colored groomsmen suits are expected to be on the rise.
A tan groomsmen's suit goes exceptionally well with suspenders. Suspenders dress the suit up a bit and add a level of sophistication to an otherwise more-casual pick. Also, as the festivities go on and the gents take off their suit jackets, suspenders hold up as a fashion statement.
Ready to Gear Up Your Groomsmen?
Now that we've given you some men's wedding suit ideas, check out our selection of groomsmen apparel and accessories. Whether you decide on a classic navy or an eye-catching floral-patterned suit, we have the perfect gifts to style your groomsmen. Shop our products here!
Read more from our Blog: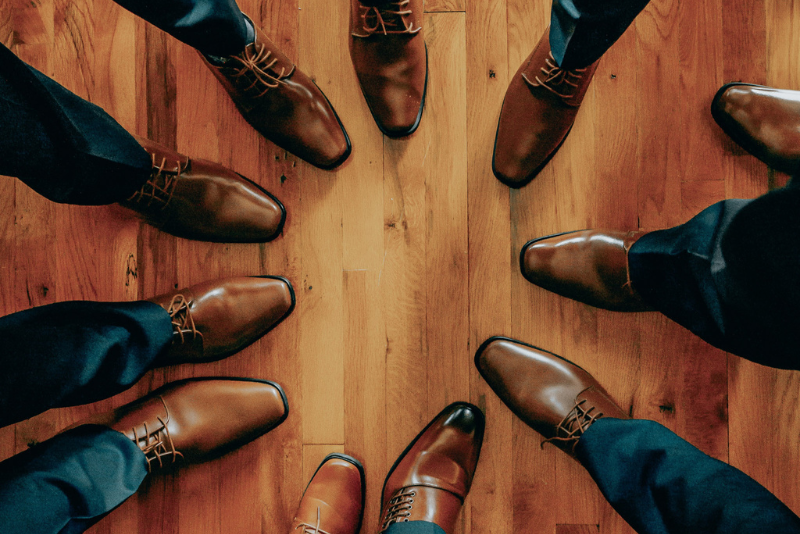 Feb 08, 2023 Jonathan Sears
Trying to decide which dress shoes the groom should wear on his wedding day? We've put together a list of the top men's footwear options to make that decision easy.
View Details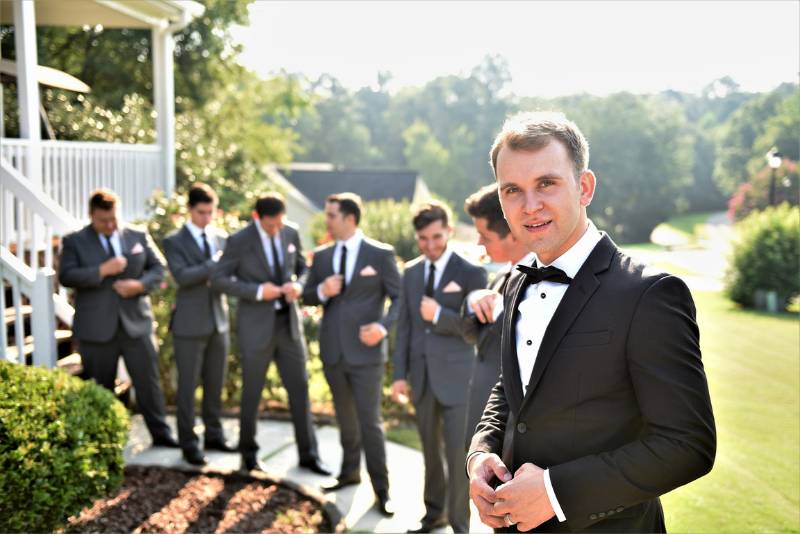 Mar 24, 2022 Jonathan Sears
Wondering how many groomsmen to have and who should make the cut?  We'll help you pick the perfect number of groomsmen for your wedding party.
View Details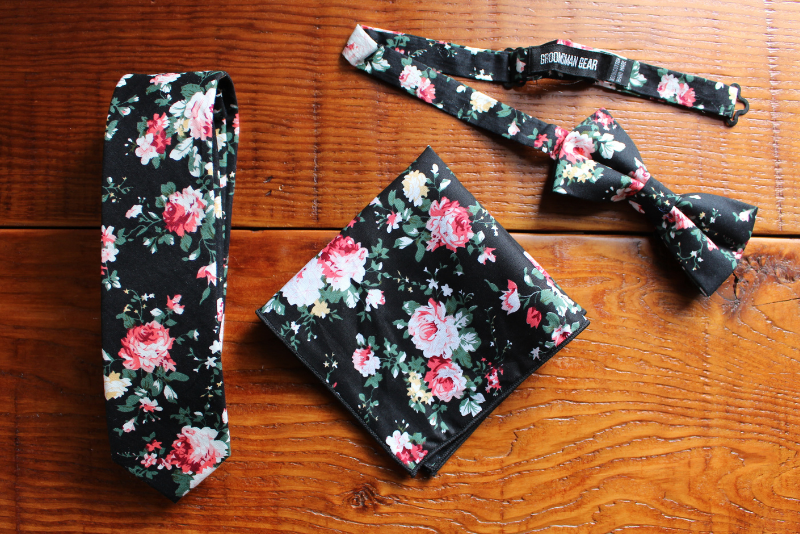 Mar 07, 2022 Jonathan Sears
Should the groom wear a tie or bow tie for his wedding? We have the answers to help you make the right decision to complete your wedding attire look.
View Details