How Many Groomsmen Should You Have in Your Wedding?
A perfect number exists, but it's different for everyone.
Groomsman Gear - March 24, 2022
Once you've popped the question and the wedding planning begins, it's time for another big task - picking your groomsmen.
Unlike many wedding decisions that you'll share with your partner, the groomsmen selection rests squarely on your shoulders. But there's a lot to consider as you draft your team - including your fiancé's vision and how large of a bridal party you both want.
Our simple advice is that you can have as many groomsmen as you want. But if that doesn't satisfy your search for answers, keep reading. We've gathered the best information and advice to help you pick the perfect number of groomsmen.
How Many Groomsmen Are Normal at Weddings?
Brides reports that weddings have an average of 5.3 groomsmen. So you likely have seen anywhere from 0 to 10 groomsmen at the weddings you've attended. Five is a nice number where you have a solid support system without having to manage a big group of people.
Do You Need to Have The Same Number of Bridesmaids and Groomsmen?
You definitely do not need to have an even bridal party. But if you are having a more traditional ceremony, then having close to the same number will keep things balanced at the altar and in your photos.
You and your fiancé should talk about the number of bridal party members you both want. Don't sweat a small difference, but If you are on opposite ends of the spectrum (say if you want two, but they want eight), then get creative to make sure you are both happy. For example, some members of the bridal party can enter but not stand up front, or they can spread out on each side of you.
We recommend against having extra groomsmen just to be placeholders and reach a certain number. Being a groomsman is a great honor, and they will be at the forefront of your wedding day memories. You should only ask people who are truly meaningful to you.
Envision Your Wedding Day with a Certain Number of Groomsmen
Do you want to be surrounded by a big group of friends as you get ready for your ceremony? Or do you want to quietly sip a beer with a couple of your favorite guys? Try to picture your wedding day and how you'll be most happy.
Leading up to the big day, it can be stressful to make sure all your groomsmen have their outfits ready and travel arranged. A lot of groomsmen can also be hard to manage on the wedding day.
But a bigger group of guys will create a more celebratory atmosphere on the wedding day. It's also more hands to help set up and clean up.
Who Expects to be in The Wedding?
One of the most stressful things about picking your groomsmen is letting someone down. So as you start counting your groomsmen, begin with the people who expect to be asked - a sibling, a close friend, your fiancé's brother.
If you want all those people to be groomsmen, then you have a good starting number for your groomsmen count.
But there could be people who you don't want to be a part of the crew. Maybe you're not close to them anymore, or they may cause trouble. In this case, you may need to consider having a small groomsman count. After all, their feelings are more likely to get hurt if you have a large group of groomsmen and they still didn't make the cut.
Working With Your Wedding Size
If you're wondering how many groomsmen are too many, the answer may lie in the guest count of your wedding. Your wedding may seem off-balance if you have 10 groomsmen standing at the altar and 15 people seated as guests.
Your bridal party should be proportional to your guest count. If you're having a micro wedding with 25 or fewer guests, one best man will feel most balanced.
If you're having 50 to 100 guests, then a group of 2-4 groomsmen is a nice size. Once you have more than 100 guests, you may want to have 5-8 groomsmen.
A group of 10 groomsmen is large by any measure, but it works best for large weddings with 200+ guests.
How Many People Do You Want to be Groomsmen?
At the end of the day, this is all that matters. Make a list of who you want to be a groomsman. Who has supported your relationship? Who has been by your side for other big life moments?
Once you have your list, see if it works well with you and your fiancé's wedding vision. If so, you're ready to go!
If your groomsmen count doesn't seem right, then just slow down. It's better to spend time thinking about the decision instead of rushing into a groomsman proposal that you'll regret.
Take a break, reset, and then approach your decision from a fresh and joyful standpoint. We know you'll find a number that you are happy with.
Once you know how many groomsmen will be in your wedding, it's time to pick out what they'll wear. Check out our recent blog post of the top groomsmen suit trends in 2022!
Read more from our Blog: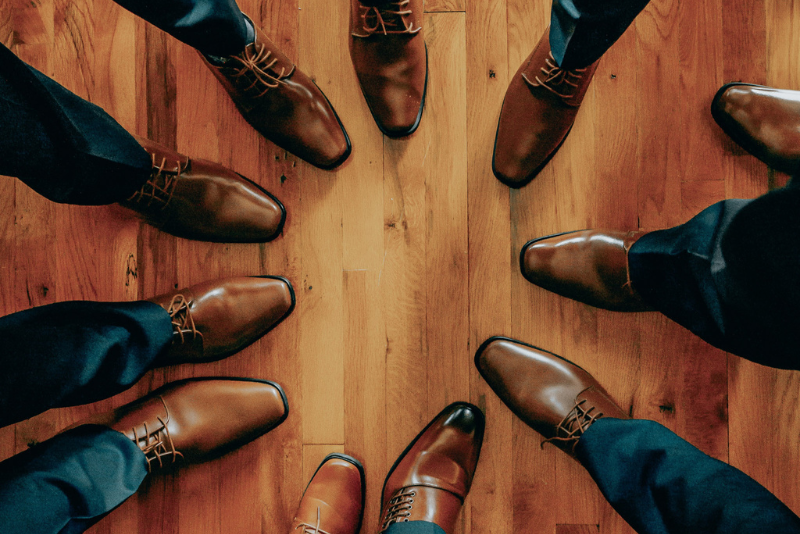 Feb 08, 2023 Jonathan Sears
Trying to decide which dress shoes the groom should wear on his wedding day? We've put together a list of the top men's footwear options to make that decision easy.
View Details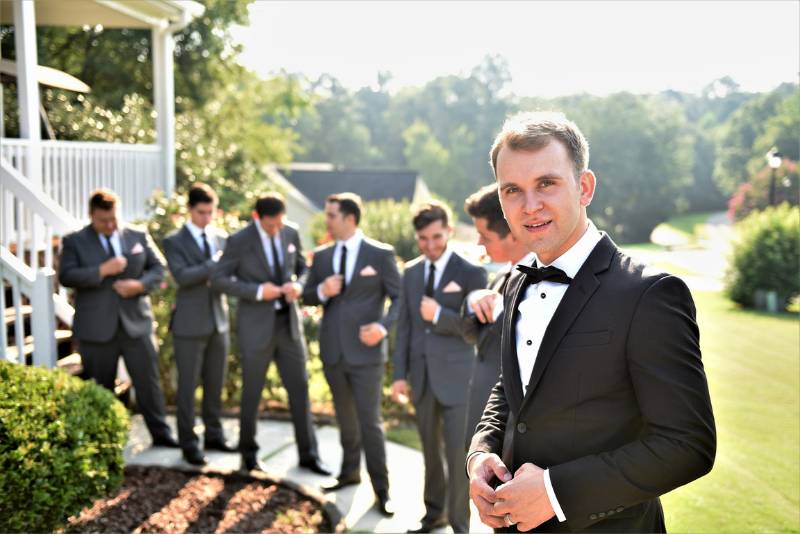 Mar 24, 2022 Jonathan Sears
Wondering how many groomsmen to have and who should make the cut?  We'll help you pick the perfect number of groomsmen for your wedding party.
View Details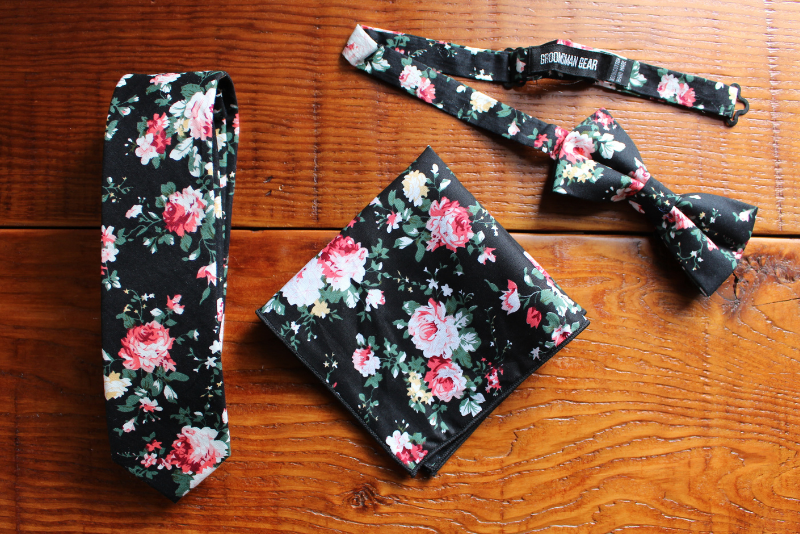 Mar 07, 2022 Jonathan Sears
Should the groom wear a tie or bow tie for his wedding? We have the answers to help you make the right decision to complete your wedding attire look.
View Details