4 Tips & Tricks to Planning a Wedding From Home
How to keep calm and the wedding planning going strong amidst COVID-19 .
Groomsman Gear - May 13, 2020
Wedding planning can be tough at the best of times, let alone trying to plan a wedding during the mega rocky start that has been 2020. You might feel like throwing up the white flag when it comes to planning your wedding during Coronavirus, but there are actually several ways you can continue to plan your wedding from the safety of your home. Wedding industry professionals have quickly adapted to this unprecedented time, and they continue to rally behind and support their couples in creative and innovative ways.
Furthermore, it should be noted that if you and your partner have your hearts set on getting married in 2020, continuing to be proactive about your wedding planning will help you secure a date in what is likely going to be a very busy year. As summer weddings get postponed and rescheduled, fall and winter weekends will book up quickly, so if you have yet to set or reschedule a wedding date, now is really the time to get on it.
Once you've got your date set, it's time to let the virtual planning commence. Keep reading on to learn about all the different ways you can virtually plan your wedding while still sheltering-in-place and staying safe during the coronavirus pandemic.
E-Meet Your Wedding Professionals
It's no secret that video calls have become the go-to for communication recently - whether you are working from home, participating in virtual happy hours with your friends, or just simply using it to stay in touch with loved ones.
Apart from these experiences, virtual calls are also great for meeting your wedding professionals. Video calls will give you the chance to discuss details in a more personal manner than simply over the phone, and it also gives you an idea if you gel well with your wedding planner, photographer, florist or musicians. (And who knows, you might even get a free mini-concert out of it!)
Send Digital Wedding Invitations
A quick Google search will tell you that the internet world is pretty divided when it comes to wedding invites. Traditional paper invites perhaps look nicer, but they are a bit pricey, especially if you have a large guest list and when you factor in the costs of stamps.
Digital invites, on the other hand, may feel less formal, but you end up saving some dough (and some trees) in the process.
In the uncertainty of coronavirus, the die-hard stationary fans may want to consider digital invites if there is a possibility their wedding date may continue to be impacted by social distancing restrictions. Digital invites allow for quicker changes at a time when flexibility is needed, as well as providing a means to capture email addresses in case you need to continue to update your guests as things change.
If your wedding is far in the future, you might be in the clear to use paper invitations. Whatever option you ultimately decide on, you can create both of them digitally right now (and print them later if you choose) while you're sipping on a beer and catching up on your favorite show.
Get Creative with Cake Tasting
While virtual holograms of cakes and other goodies always looked cool in sci-fi movies, we're going to go out on a limb here and assume that you actually want an idea of what your wedding cake (or cupcake, or donut, or ice cream) is going to taste like.
Since many food services have been allowed to stay open during coronavirus, so long as they offer touchless pick-up or delivery, you can try calling up your local bakery and inquiring if you can order a few samples. Even if bakeries aren't offering their typical style of sampling, you might still be able to order cupcakes in order to test their flavors.
Once you've made an order for pick-up, you and your partner can make an experience out of it by having a date night at home as you nibble on and discuss your favorites. The same concept goes for restaurants if you plan on having your wedding catered from an outside vendor as opposed to in-house catering from your venue. It's a great way to wedding plan and support small businesses at the same time.
Order Wedding Attire Online
Most guys who have ever been a groomsman are pretty familiar with the suit routine. Show up, get measured, purchase a suit, done. Or, come back 2 or so days later after it's tailored, but still, pretty easy.
Sheltering-in-place orders might have (surprisingly) made it even easier to get suited up. Several businesses are offering order from home services where the groom or groomsmen can order their suits from the comfort of their couch. It takes the guesswork out of sizing and ensures the perfect fit, and the outfit will arrive at your doorstep ready to go well before the wedding date.
You can even opt to include the extras like the groomsmen ties and groomsmen socks, or you could order some personalized accessories that will really set your groomsmen apart from the traditional finds. Something a little off? No sweat. Most places will expedite or overnight replacements if necessary.
For both brides and their bridesmaids, many boutiques are offering at-home try-on. BHLDN has long offered this option to those who can't make it to their stores. They make it easy to shop by offering 30-day returns, providing in-depth sizing charts, and sharing helpful reviews from other brides. Many other bridal boutiques have begun to follow suit, or at the very least are offering remote styling sessions. Either way, make sure you inquire about the return policy and always read the fine print. And if you're really missing the full experience, have a virtual try-on session at home with a bottle of bubbly and your best girls joining via video chat.
A Final Note
While it can feel daunting to plan your wedding amidst a global pandemic, it's essential to continue full steam ahead if you and your partner are set on getting married in 2020. Thankfully, many wedding industry professionals have risen to the challenge and are ready to assist you in these trying times.
When in doubt, get creative, think outside the box, and perhaps pour yourself and your partner a cocktail (for, uh, your signature wedding cocktail research, of course). Eventually, this will pass, and you'll have one heck of a celebration to look forward to.
Read more from our Blog: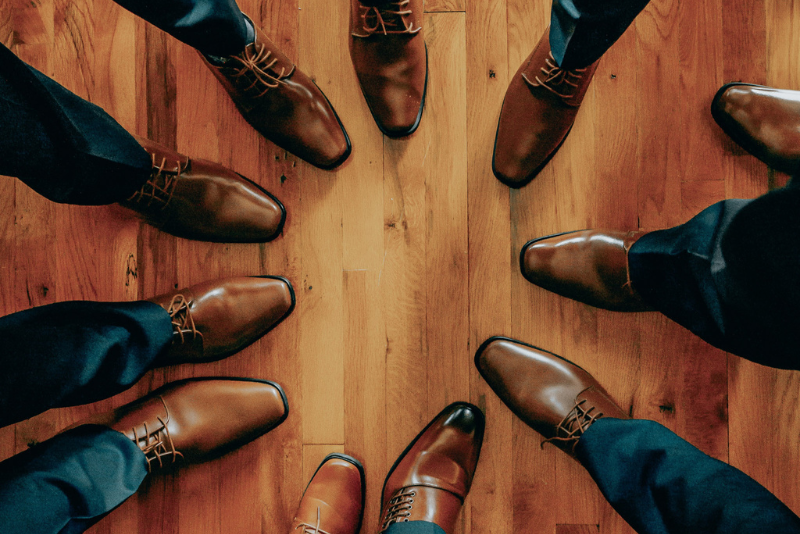 Feb 08, 2023 Jonathan Sears
Trying to decide which dress shoes the groom should wear on his wedding day? We've put together a list of the top men's footwear options to make that decision easy.
View Details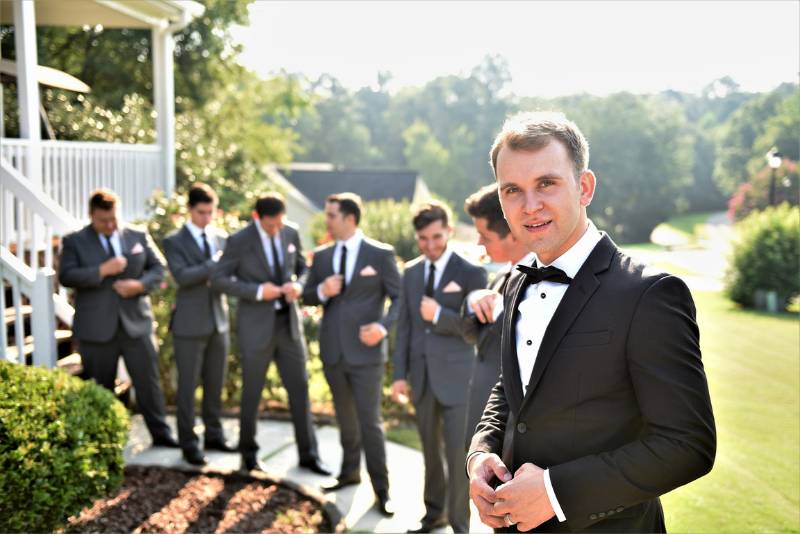 Mar 24, 2022 Jonathan Sears
Wondering how many groomsmen to have and who should make the cut?  We'll help you pick the perfect number of groomsmen for your wedding party.
View Details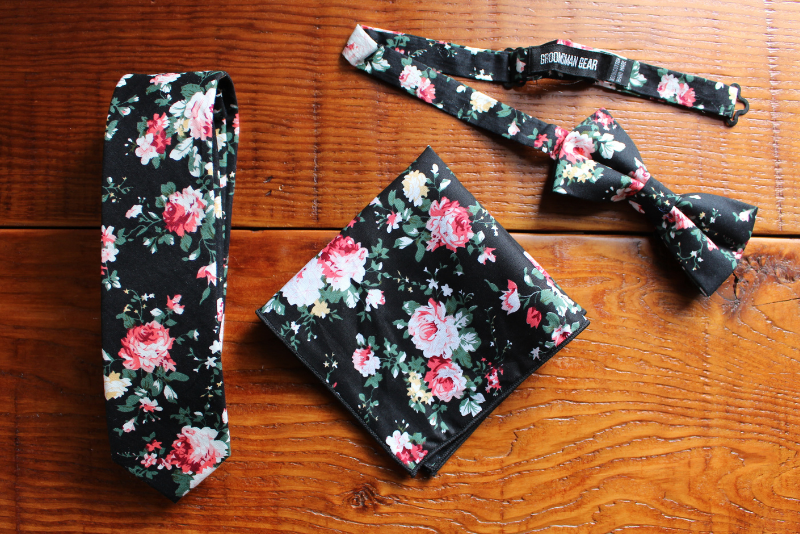 Mar 07, 2022 Jonathan Sears
Should the groom wear a tie or bow tie for his wedding? We have the answers to help you make the right decision to complete your wedding attire look.
View Details