Wedding Attire Advice: Bow Tie or Tie For The Groom?
We'll help you tie your entire wedding look together.
Groomsman Gear - March 7, 2022
Assembling your wedding attire can be a daunting task. You are likely new to the complex world of men's formalwear, and there's so much pressure to look your absolute best on your wedding day. As you develop your overall wedding look, one of the toughest decisions can be whether to choose a bow tie or tie for the groom.
We are here to help! Follow along as we present some situations and questions to help find which tie style suits you best.
How Formal Is Your Wedding?
Whether your wedding is a casual afternoon get-together or a formal event, the right tie can balance your entire look. Your wedding's dress code can help guide your decision in whether you should wear a bow tie or necktie for your wedding.
If you are having a black-tie wedding, then your search for answers is over. You need to wear a black bow tie. This is the second-most formal dress code, and it involves some strict attire rules. But at least that's one decision you can check off your list.
Fun Fact: The Most Formal Dress Code for an event is White Tie. You should definitely research the specifics of this style before choosing it for your wedding, and be prepared to see top hats and gloves.
If your wedding is semi-formal or black-tie-optional, then you have a little more flexibility. In this case, you should wear a tuxedo or dinner jacket, but you can pair it with a solid-colored bowtie or tie for the groom.
Many grooms don't wear a tie at all to a more casual wedding, but we think it's a perfect way to elevate a laid-back look. You'll also have more leeway to explore different prints and materials. Either a tie or bowtie would look great for a non-formal wedding, depending on the statement you want to make and which one fits your look & personality.
What Feels More Comfortable?
If you don't wear suits regularly, you probably aren't sure if you're more comfortable in a tie or bow tie. We recommend you practice wearing each style. Wear one of each around your house, as a wedding guest, or on a date night. See which one makes you feel confident and comfortable.
Bonus - when you practice wearing each type of tie, you'll also gain valuable practice tying it.
What Kind of Statement Do You Want to Make?
A bow tie is an eye-catching addition to non-formal attire. Are you drawn to adjectives like "playful" and "dapper"? If so, a bow tie will be a great accessory for sports coats or suspenders. A necktie is a more low-key choice.
Not sure how daring and dapper you want to be? Consider wearing a bow tie in a muted color, or a necktie in a floral print. A coordinating pocket square will add extra flair to either style.
What Are Your Groomsmen Wearing?
Even though you are the most important man at the wedding, you may be the last to choose your wedding accessories. Especially if you can't decide between a bow tie or a tie.
If you know what your groomsmen ties will look like, it can simplify your decision. We recommend you wear the opposite of what they're wearing. A different tie for the groom will make sure you stand out while still coordinating with your groomsmen.
What is Your Fiancé Wearing?
You and your fiancé are an aesthetic pair. You must make sure your looks are coordinated. The right tie for the groom can help achieve this.
If the bride is wearing a bold flower crown or statement jewelry, a bow tie will add a unique touch to the groom's ensemble.
Where Do You Want People to Look?
If you answered your fiancé, then congratulations, you're ready to be a husband! But that's not what we meant. Different ties draw eyes to different parts of your body.
A necktie can balance a round face or soft chin. It also elongates the torso.
A bow tie draws the eyes away from the midsection and up toward the face.
What Type of Tie Makes You Most Excited?
The competition between bowtie vs. tie for the groom may still be neck-and-neck. When it's time to make your final decision, you should ultimately follow your gut. Which tie makes you most excited?
At A Glance:
Ready to decide between a bow tie or tie for the groom? Here is a quick recap of each option:
BOW TIE
- A must-have for black tie events
- Makes a dinner jacket look more formal
- Makes suspenders or a sports coat more playful
- Eye-catching look
- Draws attention away from the torso and up to the face
TIE
- A standard addition to more casual wedding looks
- Makes a tuxedo or dinner jacket look a little more casual
- Low Key
- Draws attention away from the face and has an elongating effect on the torso
The good news is you'll look amazing either way. When you feel comfortable and confident – and when you're blissfully in love – your wedding look will be picture-perfect.
Shopping around for accessories for your wedding? Check out our selection of groomsmen ties and groomsmen bowties!
Read more from our Blog: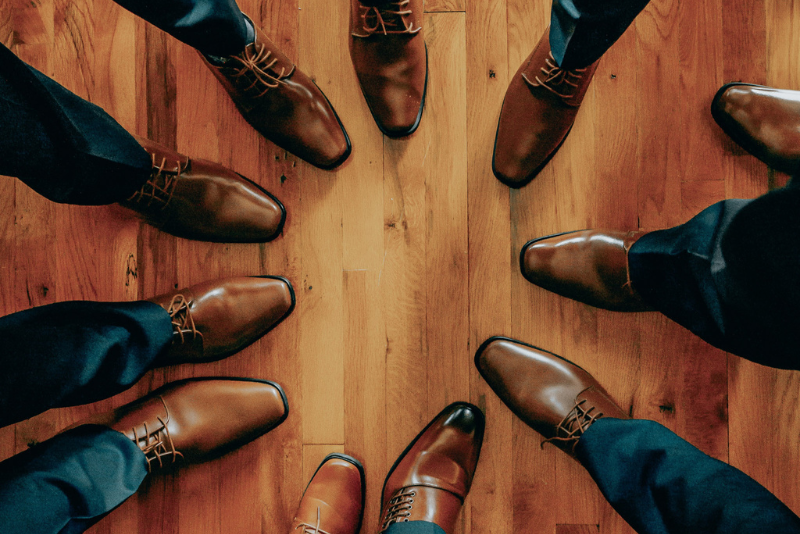 Feb 08, 2023 Jonathan Sears
Trying to decide which dress shoes the groom should wear on his wedding day? We've put together a list of the top men's footwear options to make that decision easy.
View Details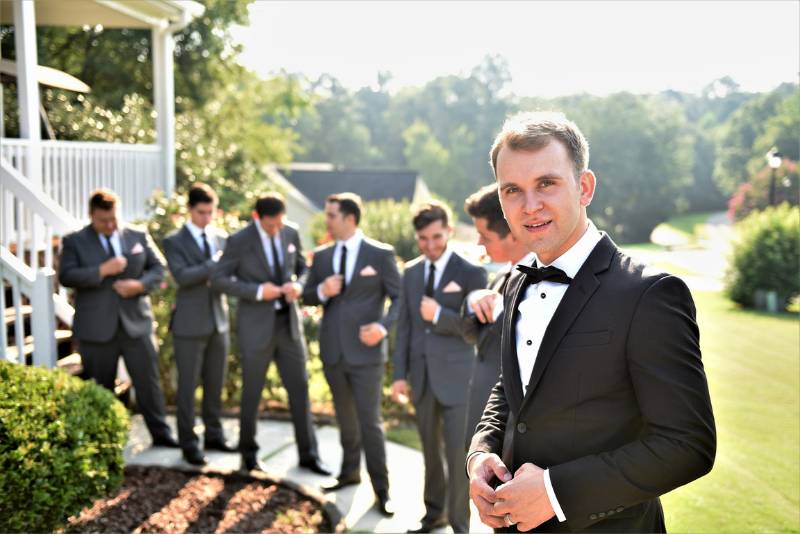 Mar 24, 2022 Jonathan Sears
Wondering how many groomsmen to have and who should make the cut?  We'll help you pick the perfect number of groomsmen for your wedding party.
View Details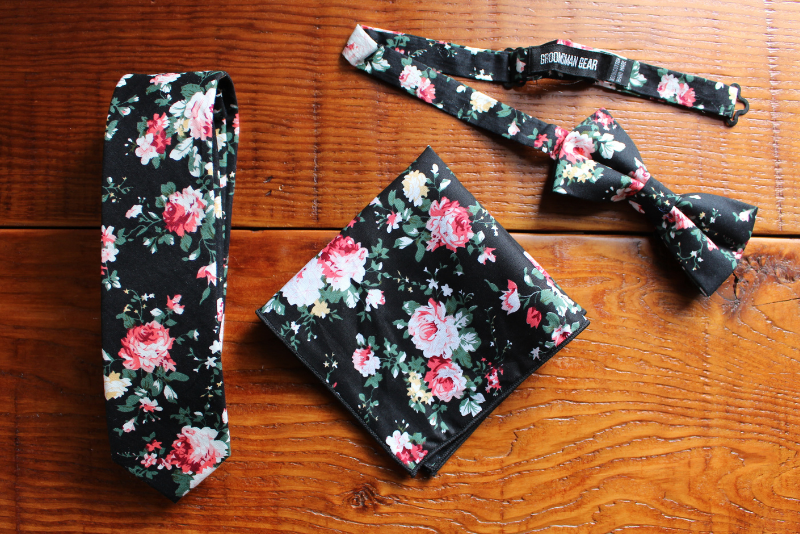 Mar 07, 2022 Jonathan Sears
Should the groom wear a tie or bow tie for his wedding? We have the answers to help you make the right decision to complete your wedding attire look.
View Details