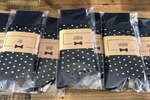 Wedding planning can be tough. 100s of items to check off the list as the big day approaches. My wife and I sure felt the planning stress as we prepared for our 2019 wedding. But one of our favorite tasks was finding small gifts for our wedding party. I set out to find gifts for my groomsmen, and I decided socks would make the perfect gift.
Socks make a fantastic gift for groomsmen because they are practical (since everyone needs socks for the big day!), and they are a nice way to say "Thank You" to the groomsmen that are taking time to be in the wedding.
Here are a few stellar ideas to find the perfect groomsmen socks for your wedding.
1) Get Matching Socks For Your Groomsmen
This may be simple, but having matching socks (or co-ordinated socks) for each groomsman makes a big difference. After putting time and effort into picking out the suit, shirts, ties, make sure you save time to plan out the socks as well!
Matching socks also make for fun wedding party photos! It's all about that groomsmen sock photo. And trust me, you don't want a white crew sock sticking out in the wedding party photos when everyone else is wearing black dress socks...
2) Find The Right Style
Here's where you can be creative. Socks can be classy, fun, funky, or anything in-between! Find something that matches your personality and the wedding style. 
For a classy style you may want to go with something simple like Polka Dot Socks or Striped socks.
Or to spice things up, you could get Socks with Mustaches on them, USA Flag Socks, or Super Hero Socks! Your imagination is the limit! Find something that suits your style and personality.
3) Personalized Sock Labels
Now that you've picked out the color and style of sock you want for your wedding, it's time for personalization!
One of the best ways to gift socks to your Groomsmen is by using personalized sock labels. They can feature:
The names of your wedding party

The roles (best man, groomsman, usher, etc.)

A fun quote or question like: "Will you stand with me?"
Sock labels are also a very affordable way to give a practical and personal gift at the same time! At Groomsman Gear, we make hand-made sock labels for only $3.99 each! 
Final Thoughts
If you are looking for a gift for your groomsmen - look no further. Personalized Groomsmen Socks are the way to go. If you are interested, you can find Groomsmen Socks and Labels available on our shop here. 
Feel free to leave a comment or send us a message if you have any questions about the article or our products. Thanks!